Description
RPM TRIGGER – PRE EXPLOSION FORMULA FOR RACE
RPM trigger: it´s a very vitamin energized for race, can get very close to the race and works reconbinandose (liquid solvent + powder) Generator of energy deposits and short-term anti-fatigue.
To use : Preparation of equestrian tests and in all cases where it is necessary to increase the capacity of work and performance. The RPM trigger given it´s dilating vessel effect is indicated in the treatment of heart failure, bad peripheral blood circulation, thromboembolism, periarthritis, and intermittent claudication.
In race , the use in race animals is especially indicated to apply at the last moment.
It´s also advisable, to apply  for  48 hours at least , before the race to increase the deposits of ATP, UTP and essential accumulation aminos.
This product, is widely used in endurance races ( 100 / 120Km)
Formula: 
This product is divided into 2 parts: liquid and solid
A: Powder Bottle (50 ml bottle)
Adenosine-5-triphosphoric acid (ATP) 0.50 g
uridine triphosphate (uridine triphosphate or uridine-5′-triphosphate, abbreviated UTP 0.50 g
 B : Liquid bottle (50 ml bottle) _solvent
Vitamin B1 (Thiamine) 0.25 g
B2 Vitamin (Riboflavin)  0.025 g
Vitamin B6 (Pyridoxine)  0.175 g
Vitamin B15 (Pangamic)  0.10 g
Nicotinamide 1.00 g
Pure glucose Anhydrous 12.50 g
Co-enzyme 50mg
MSM 2.0 g
Excipients 50 ml
Presentation :  
2 x 50ml Bottle
Doses:
Horse and camel:
A) As energizing:
4 to 6 ml /day , (IV / IM ) 3 days before :
1º Apply : 48 hs before the race
2º Apply: 24 hs Before the race
3º Apply : few hours before the race. The most close possible to the race.
B)  Like vitamin and ATP :
Apply every day, for one week, 4 ml / day (IM or IV)
on race day,  apply 7 ml, 4hs (IV) or  6 hs(IM)  before the race .
it is recommended to use it with "RPM – Regular "
in this case to get the maximum benefit !!
The synergis is excellent.
in case it´s used for more than 1 week, its use can be extended to constant mode applying only 3 ml / day of RPM trigger and 1 ml/day of RPM (red)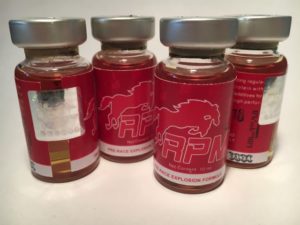 C) As shot for respiratory increase:
Apply 10 ml IV very slowly, closest to the race.
D) If it´s used in combined with "RPM 21 – Blue presentation" , the dose can be lowered to the mito getting the same effects
when used together, it´s recommended to use 2 ml of each / day, the last 3 days before the race:
58 hs before the race : 2 ml RPM trigger + 2 ml RPM 21
34 hs before the race : 2 ml RPM trigger + 2 ml RPM 21
10 hs before the race : 2 ml RPM trigger + 2 ml RPM 21